Want to test electricity or solve automotive & household electrical problems with one meter only? Want more accurate range display as 6000 counts with True RMS measurement? MT-1236 True RMS Digital Multimeter is the ONE you need! This brand new multi-function multimeter features high precision and high performance that measures DC/AC voltage, AC/DC current, resistance, capacitance, frequency & duty cycle, etc. It also comes with NCV detection(non-contact voltage), Temperature test, Led light and more!
Full Function
For ACA, ACV, DCA, DCV, Frequency, Cycle Duty, Diode test and more
Accurate Value
w/ ACV ACA True RMS Measurment
Overload Protection
Ensures user safety
Specifications:
LCD Display: 3 5/6 5999 Counts
DCV: 600mV/6V/60V/600V ±(0.8% +5d)
ACV: 600mV/6V/60V/600V ±(1% +4d) TRUE-RMS
DCA: 60mA/600mA ±(1.2% +5 d) , 10A±(3.0% +5d)
ACA: 60mA/600mA ±(1.5% +5 d) , 10A±(3.0% +5d)TRUE-RMS
Frequency: 9.999Hz/99.99Hz/999.9Hz/9.999KHz/99.99KHz/999.9KHz/9.999MHz ±(1.2% +5d)
Duty Cycle: 1%~99%±(2.5% +5 d)
Temperature:
-20~1300℃ ±(1.0% + 3d)
-4℉~2372℉ ±(0.5%+ 2d)
ResistanceΩ: 600Ω/6K/600k/6M/60MΩ ±(0.8% +5d),100mF ±(4% +10d)
Capacitance: 60nF/600nF/6uF/60uF/600uF/6mF ±(4% + 5d)
Temperature(℃/℉):
-20℃~1000℃±(1% + 3d)
-4℉~2372℉±(1% + 3d)
Continuity Buzzer: ≤30Ω , buzzer beeps
Diode Test: Y
NCV Detection: Y
Data Hold: Y
LED Light: Y
LCD Backlight: Y
Analog Bar: Y
Low Battery Indication: Y
Accessories: Test Lead, K-type thermocouple, Manual
Power: 1.5V AAA x 3pcs (Not Included)
Other Function: Auto Power Off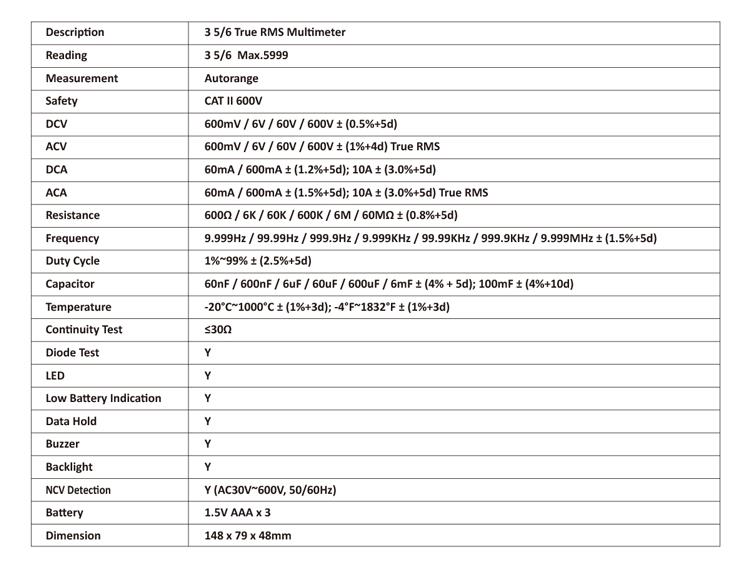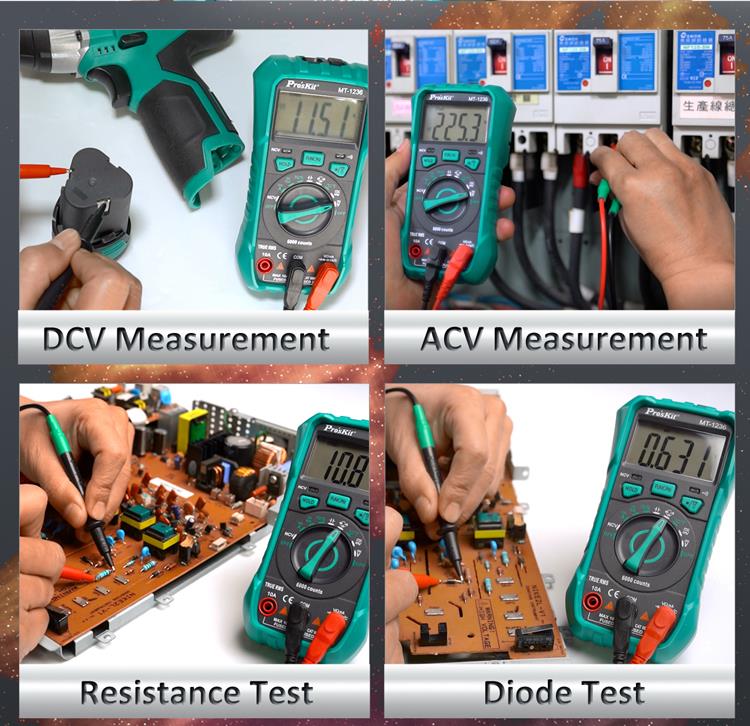 Warranty Exclusion & Limitation
The warranty covers the defects resulting from defective parts, materials or manufacturing, if such defects are revealed during the warranty period.
This warranty does not cover any of the followings:
1. Normal wear and tear.
2. Any damages, defects or malfunctioning caused by nature disasters, fires, unexpected events, inappropriate voltage or other external factors.
3. Mechanical or electric damages resulting from incorrect installation, usage or other activities inconsistent with the operation manual or technical specifications attached to the product.
4. The product has been repaired or modified by the customer or any other person.
5. The damage or missing of warranty label.
6. Other accessories that attached to the product.
a. Test instrument: batteries, fuses, test leads or probes, software cd, pouch or storage bags, carrying bags & strap, interface cables, other cables & connectors, earphone, micro SD card & power adaptor.
b. Soldering station: soldering iron or hot air gun, soldering tip or nozzle, heating element, adjustment knob, handle, power or connecting cords, connectors, filters, soldering iron holder or stand, cleaning sponge, cleaning tool & other accessories.
Warranty exclude battery.